HISK Lecturer
Eva Kerremans
Lecturer in: 2010
Eva Kerremans (BE, 1979) is an art theoretician, writer and independent curator. She graduated cum laude art history & archaelogy at the Vrije Universiteit Brussel. She continued her research at the HISK as a kind of Sherlock Holmes, trying to define the position of an artist and art market. This research resulted in two documentaries Do we forget about the artist when we get older or do we get older when we forget about the artist?& The Art Machine. She was editor Fine arts at Electronic Music and Art Magazine Kanaal 0.
Now she mainly writes as an art critic for Metropolis M and art magazine.
She coordinated the theoretical aspects of One Day Show Multimasters in Tent.(Rotterdam) 2009. The One Day Show was the end of the result of the project Multimasters in which the students from the Willem de Kooning (Rotterdam) and the students from the Royal Academy of Art (The Hague) became familiar with the theoretical and practical aspects of the limitations and consequences of exhibition models. From 12 o'clock noon till 12 o'clock midnight, the exhibition BLURRR was the podium for their performances, parasitic art works, music and encounters.
In 2010 Eva will curate a show I Kina Spiser de Hunde with some students from the Royal Academy of Art (the Hague) in collaboration with Stroom. She will also be guest lecturer at the Art Academy of Tblisi (Georgie). In collaboration with Giorgi Gagoshidze (GAGO) and Melano Sokhadze she will be recording a poetic political documentary there.
In collaboration with Andrej Skufca she will curate a project in Galerija BOKS Ljubljana, Slovenia. The project is based on the lack of an objective space for students and young artists in Ljubljana adequate for evaluating an art work away from any and all elements that distort its meaning. The space presents an absolute need and a standard in any art institution throughout the European Union. Just as a standard and of key importance is the position of this project space as an autonomous platform for students to freely engage in a critical discourse with the surrounding (art) system. Project BOKS fulfills the need for an optimal –objectified exhibition space for the students of the Academy of Fine Arts and Design in Ljubljana as well as it will open the potential to pursue a public orientated program. The program will explore interdisciplinary activities such as education, art production and research development in the field of fine arts, inter-media, performance and music together with theory and the development of critical thought and analysis. The goal of connecting students to a broadened social and cultural area springs the construction of a context for functioning, which will present young artists, curators and theoreticians an opportunity to appoint themselves within this new field of contemporary art.
Gastdocent bij Paramaribo Perspectives Tent Rotterdam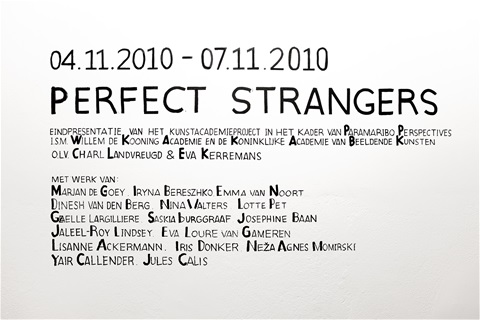 Paramaribo Perspectives/Perfect Strangers
09.09.2010 - 07.11.2010
Bij de tentoonstelling Paramaribo Perspectives ontwikkelde TENT een omvangrijk educatief programma.
Voor kunstacademiestudenten van de Willem de Kooning Academy Rotterdam en de Koninklijke Academie voor Beeldende Kunsten Den Haag ontwikkelde TENT het educatieve project Perfect Strangers. Het project stelt de omgang met 'het vreemde' centraal. Vragen als 'Hoe ga je om met het vreemde?', en 'Hoe bepaal je eigenlijk wat vreemd is?', staan centraal in een traject dat loopt van theorie tot praktijk.

Onder leiding van kunsthistoricus Eva Kerremans en kunstenaar Charl Landvreugd. Met bijdragen van kunstenaar Kurt Nahar en Hugo Bongers, secretaris van de Rotterdamse Raad voor Kunst en Cultuur (RRKC) en lector Culturele Diversiteit, Willem de Kooning Academy Rotterdam.
Perfect Strangers: educational project for students of the Willem de Kooning Academy and the Royal Academy of Art The Hague, in cooperation with Hugo Bongers, Eva Kerremans and Charl Landvreugd.
EXPO Perfect Strangers
(Tent Rotterdam/WDKA/KABK)
Perfect strangers was an exhibition in Tent Rotterdam of selected works by a special jury. Young artists studying at the Willem de Kooning Academy in Rotterdam and the Royal Academy of Fine Arts in The Hague came together to work on the project, mentored by an artist Charl Landvreugd (practical assignment) and Eva Kerremans (theoretical assignement), and researched the theme of strangeness, self and being foreign. Perfect strangers accompanied the exhibition Paramaribo perspectives in its last week. Among 5 exhibited works, video made in cooperation between Neža Agnes Momirski, Iris Donker and Lisanne Ackermann "I have an accent" was chosen as one of them.
Via we transfer you can get the reader by mailing me on gazonnousnu@gmail.com
Gastdocent bij Blurrr Relational Aesthetics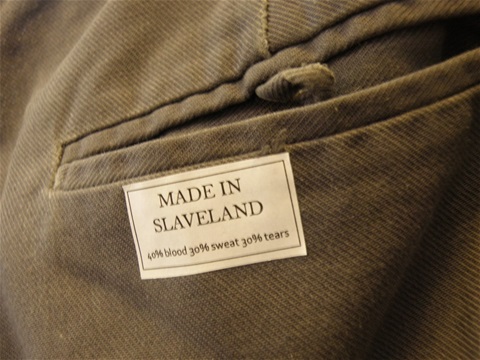 MultiMasters
09.09.2009 - 15.11.2009 - educatie
In het kader van de jubileummanifestatie Blurrr, werken studenten van de Koninklijke Academie van Beeldende Kunsten Den Haag en de Willem de Kooning Academy/Rotterdam University in een proces van Reading Groups ondersteund door Eva Kerremans en LABweken met kunstenaar Tys van den Bosch toe naar een High Speed Show in TENT op 29 oktober 2009.
http://metropolism.com/features/de-kunstenaar-als-homo-universal/